Explore and make memories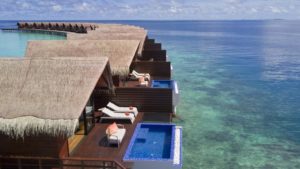 Kerala, popularly referred as God own Country", is a narrow strip of land situated in the south western part of India. It is placed between Arabian Sea on its west and Western Ghats mountain range on its east. Karnataka, Tamil Nadu and Andhra Pradesh are the neighboring states to Kerala. It is divided into 14 districts with the capital being Thiruvananthapuram (Trivandrum), which is the largest city in the state. Malayalam is the most widely spoken language and is also the official language of the state.
Legend says that Parashuram, the sixth incarnation of Lord Vishnu threw his axe into the sea from Gokarnam (near present day Manglore) and it is believed the sea retreated from where his axe fell to give birth to Kerala!
Kerala has special and unique culture. The state's traditional dances are Kathakali and Mohini Aatam. Indian elephant is considered the official animal of the state. Banana is intrinsic to the culture of Kerala; consumed as food and medicine, used in rituals and ceremonies and offered to gods in prayer. Onam is the traditional festival celebrated every year in the month of August-September. It is believed that King Mahabali returns and visits the houses of the people on this day. People put Pookkalam in front of their houses on this day to welcome Mahabali. At this time then organizes Aranmula Boat Race after Onam which attracts visitors from everywhere.
Another well – esteemed Boat Race namely, Nehru Trophy Boat Race held every year in the month of August on the second Saturday, in the backwater towns of Alappuzha in the Punnamada Lake.  
Kerala is a land of great natural beauty. The National Geographic Magazine has named Kerala as "one of the ten paradises of the world" and "one of the fifty must see destinations of lifetime".
Some of the famous tourist places in Kerala are Munnar, Thekkady, Alleppey (Alappuzha), Kumarakom, Wayanad and many more. Calm, peaceful and spotless, traverse in the various destinations of Kerala and spend a detachable moment with nature.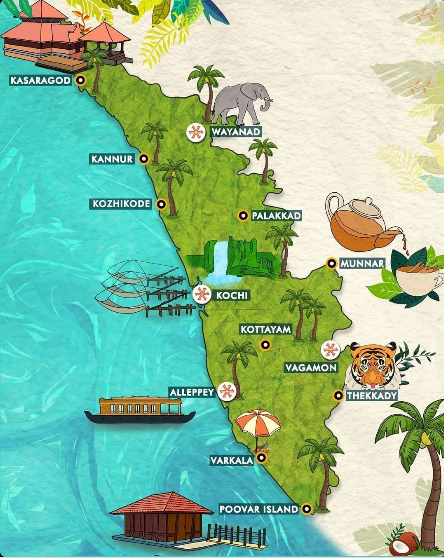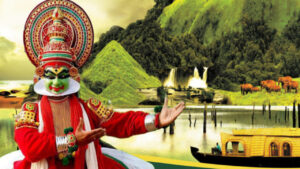 Places To visit
Kerala is a paradise in itself; no wonder it is referred to as "God's Own Country". Kerala offers emerald backwaters, Tranquil beaches, idyllic Hill stations, Lush greenery, Wide range of Biodiversity, breathtaking Waterfalls, Ayurveda treatments, Exotic art forms, Captivating culture, Warm hospitality, Rich heritage and Delicious cuisines; which are unforgettable experiences.

1. Wayanad – Wildlife Reserve and Nature Abode
Wayanad is one of the most popular and beautiful hill stations of Kerala. Surrounded by Nilgris, Mysore districts on the East, Kozhikode on the West, Coorg on the North and Malappuram on the South, Wayanad has charm all around it. The fast-flowing rivers namely, Panamaram, Mananthavady and Kabini add to the beauty of this region. Filled with waterfalls, beautiful valleys, historical caves, comfortable resorts and homestays, Wayanad in Kerala is famous for its spice plantations and rich wildlife.This hill station is worldwide known for its 'responsible and sustainable tourism'.
It is located around 85 Km from Kozhikode, around 280 Km from the stunning city of kochi or cochin, around 195 Km from Coimbatore, around 110 Km from Ooty, around 140 Km from Mysore  and around 470 Km from the capital city of Trivandrum or Thiruvananthapuram.
Calicut International Airport is the nearest airport and Kozhikode Railway Station is the nearest Railway Station for Wayanad. Wayanad is well connected by bus from Kozhikode, Kannur, Ooty and Mysore (Mysuru). The Major attractions of Wayanad are:-
| | |
| --- | --- |
| | |
| | Soochippara Waterfalls (Sentinel Rock Waterfalls) |
| | |
| | |
| | |
| Wayanad Wildlife Sanctuary | |
| | Priyadarshini Tea Environs |
| | |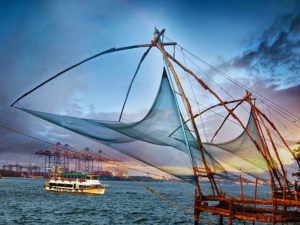 2. Kochi (Cochin) – the Queen of the Arabian Sea
Kochi or Cochin is a major harbour city on the south-west coast of India and is part of the district of Ernakulam in the state of Kerala. Cochin is one of the finest natural harbours on the Arabian coastline. The City is the cosmopolitan commercial and industrial capital of Kerala. The city is a mix of history, modernity, nature, art and culture.
Kochi is the arguably the ideal starting point for exploring the unfathomable diversity and beauty of Kerala, rated in the top three tourist destinations by the World Travel Tourism Council and featured in National Geographic Traveller's '50 greatest places of a lifetime'. It is located around 215 Km from the capital city of Trivandrum or Thiruvananthapuram. The Major attractions of Kochi are:-
Vypin, Bolghatty and Willingdon Island

The Dutch Palaceat Mattancherry

Jew Street and Paradeshi Synagogue

(also known as Jewish Synagogue)

 

3. Munnar – Scenic Hill Station
Munnar is a pristine hill station located in the Idukki district of the southwestern Indian state of Kerala. Situated at merging point of three mountain streams namely Mudrapuzha, Nallathanni and Kundala, Munnar is around 1700 meters above sea level. This majestic hill station was once the most favorite summer resort of the British government in South India. Munnar is famous for its lush green mountains, waterfalls, winding lanes, tea plantations and gurgling streams. It is also known for being the exotic species center of kerala. Munnar is also called the "Kashmir of South India" and is a popular honeymoon destination. It is located around 130 Km from the stunning city of Kochi or Cochin and around 280 Km from the capital city of Trivandrum or Thiruvananthapuram. The Major attractions of Munnar are:-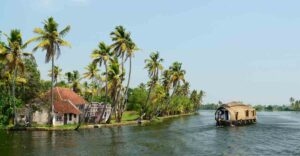 4. Kumarakom – a vibrant backwater hamlet

Kumarakom is a cluster of tiny islands on the Vembanad Lake in Kerala. It is located at distance of 14 Km from Kottayam. Situated around the region of Kuttand, Kumarakom has beautiful backwater areas. The stretch of backwater is spread over 900 sq. km. Kumarakom is paradise of coconut palms beside the shimmering backwaters, blue sky, migratory birds, emerald paddy fields and mangrove forests.
It is located around 55 Km from the stunning city of Kochi or Cochin, around 135 Km from the Munnar, around 160 Km from the capital city of Trivandrum or Thiruvananthapuram and around 35 Km from the Alleppey. The Place can also be reached by boat from Alleppey. The Major attractions of Kumarakom are:-
Kumarakom Beach and Backwaters

The Bay Island Driftwood Museum

5. Thekkady (Periyar) – Home to variety of Wild Animals
Thekkady is one of the most popular destinations for its wildlife preservation, situated on the banks of the popular lake Periyar. Situated beautifully in the Idukki District, Thekkady is also known for its rich flora and fauna. It mostly remains cool as this place located above 900 meters above the sea level. Thekkady offers the boat ride on Periyar Lake to trekking in the dense forest in Tiger Trail, views of the lush greenery of Plantation sites, Elephant Rides, enjoy Bamboo Rafting and border hiking and Jeep Safari.
It is located around 155 Km from the stunning city of Kochi or Cochin, around 210 Km from the capital city of Trivandrum or Thiruvananthapuram and around 140 Km from the Madurai. The Major attractions of Thekkady are:-
Kadathanadan Kalari Centre

Vandiperiyar pepper estates/ Tea factories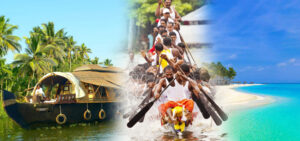 6. Alleppey (Alappuzha) – City renowned for Backwaters, Beaches and Lagoons
Alleppey or Alappuzha, esteemed as the 'Venice of the East', is quaint town flanked by the Arabian Sea in the west and has a vast network of tranquil canals and lagoons. It hosts the Nehru Trophy boat race held every year. Alleppey or Alappuzha is said to be the oldest planned city in the region and is famous for its Houseboat cruise, the beautiful palm fringed backwaters, beaches, boat races, scenic beauty and other natural bounties. It is located around 60 Km from the stunning city of Kochi or Cochin and around 155 Km from the capital city of Trivandrum or Thiruvananthapuram. The Major attractions of Alleppey are:-
| | |
| --- | --- |
| | |
| Mullakkal Rajarajeswari Temple | |
| | Punnamada Lake where the annual Nehru Trophy Boat Race takes place |
| Sree Krishna Swamy Temple, Ambalapuzha | |
| Revi Karunakaran Memorial Museum | |
| Mannarasala Sree Nagaraja Temple | |
| | |

7. Thiruvananthapuram (Trivandrum) – the State Capital of Kerala
Trivandrum is a beautiful city located at the southern edge of Kerala. The city has a rich history to boast of as earlier it was a part of the princely state of Travancore. Trivandrum offers a huge variety of sights including incredible museums, beautifully designed palaces, sacred temples and mesmerizing beaches, making the city one of the best tourist spots in South India. It is located around 215 Km from the stunning city of Kochi or Cochin, around 155 Km from Alleppey and around 95 Km from Kanyakumari. The Major attractions of Trivandrum are:-
| | |
| --- | --- |
| Shri Anantha Padmanabhaswami Temple | |
| Kuthira Malika Palace Museum | |
| | Priyadarshini Planetarium |
| | |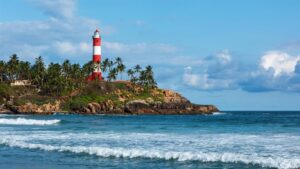 8. Kovalam – City of Beaches
Kovalam is one of the prime beach destinations in India which is actually a combination of three small beaches. Located around 18 Km from the capital city of Trivandrum or Thiruvananthapuram and around 81 Km from Kanyakumari.
Kovalam, meaning "a groove of coconut trees", famous for its three adjacent crescent-shaped shallow water and exotic beaches, kovalam is dotted with Resorts and Ayurvedic massage centres. The beach which stretches along the azure blue waters and lined with a sumptuous spread of coconut trees makes it naturally desirable tourist destination. The Major attractions of Kovalam are:-

9. Kozhikode (Calicut) – Renowned for Spices/ City of Spices
Kozhikode, also known as Calicut, is the third largest city in Kerala. Kozhikode is close to Kappad Beach where Vasco da Gama had set his foot in 1498′ and 'Discovered India' and established spice trade routes with the west.
500 Year ago, it was the Capital of Malabar and was a significant spice trade center. Being the major trade centre in Malabar and major exporter to foreign countries, the international travellers christened this district as 'the noble emporium of India'. Lounging in the wonderful setting of the serene Arabian Sea on the west and the Wayanad hills on the east' this city with the serene beaches, lush green countryside, Temples, historic sites, all combine to make Kozhikode a popular tourist destination.
It is located around 190 Km from the stunning city of Kochi or Cochin, around 185 Km from Coimbatore, around 160 Km from Ooty, around 210 Km from Mysore and around 398 Km from the capital city of Trivandrum or Thiruvananthapuram. The Major attractions of Kozhikode are:-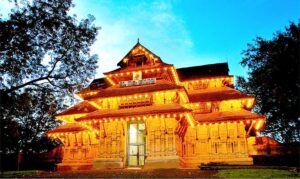 10. Thrissur – Cultural Capital of Kerala
Thrissur, also known as Trichur, is situated in central Kerala. It is bordered by the districts of Ernakulam and Idukki to the south and the districts of Palakkad and Malappuram to the north. Western Ghats stretches towards the east and the Arabian Sea lies to the west. It is located around 87 Km from the stunning city of Kochi or Cochin, around 125 Km from Kozhikode and around 298 Km from the capital city of Trivandrum or Thiruvananthapuram.
The name Thrissur is derived from 'Thiru-Shiva-Perur', which literally means "The city with the name of the Lord Siva".
Thrissur is known as cultural capital of Kerala because of its cultural, spiritual and religious leanings throughout history. The district is known for its ancient temples, churches, and mosques. Thrissur Pooram is the most colourful temple festival in Kerala. Thrissur was once the capital of the Kingdom of Kochi or Cochin. The Major attractions of Thrissur are:-
| | |
| --- | --- |
| | |
| | |
| | Shakthan Thampuran Palace |
| | |
| Basilica of Our Lady of Dolours | |
| | Thiruvambadi Krishna Temple |
| | Vaidyaratnam Ayurveda Museum |
| | |
| | Anakotta – Guruvayur Devaswom elephant sanctuary |
| Paramekavu Bhagavathy Temple | Triprayar Sri Rama Temple |
Things To Do
How To Reach
Local Transportation
Inclusions & Exclusion
Inclusions: –
Assistance on Arrival.
Accommodation on double sharing basis with breakfast.
The vehicle is available strictly as per the itinerary and not at disposal.
All entry permits, entry tickets included to all sight-seeing points.
Entrance fee for monuments as listed in the itinerary.
All parking fee, Road taxes, Fuel and toll charges etc.
Child below 5 yrs sharing same bed with parents will be complimentarily.
Elephant Ride, Bamboo Rafting, Jeep Safari, Trekking, Boating and Spice Tour in Thekkady (Periyar) -(Subject to availability & who are interested).
Cruise time from 12:00 hrs to 17:30 hrs with one hour lunch break. Next day trip from 08:00 hrs to 09:00 hrs.
All meals in houseboat.
Menu is fixed and in case of any additional food will be charged extra.
AC working time in Houseboat : Deluxe and premium – 21:00 hrs to 07:00 hrs & Luxury : 24 hrs.
One Ayurvedic massage in Kovalam (for Ayurveda Tour)
For Honeymooners:

One flower decoration, special honeymoon cake, candle light dinner on the day of arrival at Munnar.
Flower decoration and candle light dinner in Houseboat.
Non ac fresh up room for an hour, if required, in case of arrival is before 7am.
Exclusions: –
Additional excursions or sightseeing or extra usage of vehicle, other than mentioned in the itinerary.
Any expenses caused by reasons beyond our control including but not limited to bad weather, natural calamities (landslides, floods), flight delays, excess baggage, rescheduling or cancellations, any accidents, medical evacuations, riots, strikes, war, airline or hotel policies etc.
Any increase in taxes or fuel price, leading to increase in cost on surface transportation & land arrangements, which may come into effect prior to departure.
Meals other than specified in the inclusion.
Tour guide services at any sightseeing place.
Camera Tickets are NOT INCLUDED in the mentioned cost of Sightseeing & Transfers.
Any portage at airports and hotels, tips, Visa, insurance, Alcoholic and non alcoholic beverages, mineral water, telephone charges and all items of personal nature.
Compulsory Gala Dinner on X'mas & New year Eve if applicable.
Any services not specifically mentioned in the inclusions.
Card surcharge if payment through credit card.
Peak season supplements and charges.
All applicable government taxes.
Children upto age of 5yrs is complimentary while staying with parents without any child bed or extra bed.
Optional activities mentioned in the itinerary & anything not mentioned in the above package.
Note: Inclusion and Exclusion of Customized Trips will be provided on request.
Important Information
FAQ