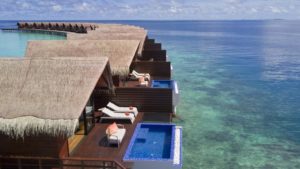 Chandigarh is situated near the foothills of the Shivalik mountain range of the Himalayas in northwest India. It is bordered by the states of Punjab to the North, the West and the South, and Haryana to the East. Chandigarh is city and a union territory in India that serve as a capital of Punjab and Haryana.  People here speaks  Hindi or Punjabi or combination of both but Punjabi is official language of the Chandigarh.
The name Chandigarh is a compound of Chandi and Garh. Chandi refers to the Hindu goddess "Chandi" and Garh means fortress. Thus, Chandigarh means fort of Godess Chandi. In actually, the name is derived from Temple of  Godess Chandi  that situated near the city in Panchkula District. Chandigarh along with two of its neighboring cities of Mohali and Panchkula, collectively referred as the Chandigarh Tricity.
According to early history, the place was inhabited by the Harappans around 8000 year ago.
During medieval times, It was part of the large and prosperous Punjab province which was divided into East and West Punjab in 1947, after independence from British rules. After partition in 1947, East Punjab required a new capital city to replace Lahore which became part of Pakistan. Therefore, Chandigarh was planned in order to give Punjab a new capital. The city was  build under the guidance and orders of prominent officers and Prime Minister of India.  
Chandigarh was first ever planned city in India which was dream city of the first Prime Minister Pandit Jawaharlal Nehru that was designed by the Swiss – French architect Le Corbusier.  In 2016, Chandigarh Capitol Complex declared by UNESCO as World Heritage.  UNESCO inscription was under "The Architectural Work of Le Corbusier an outstanding contribution to the Modern Movement".
Chandigarh  also called "The City Beautiful" due to Its eco-friendly landscapes and well planned infrastrusture. The city is known for its beautiful architecture and buildings like High Court, Secretariat, legislative Assembly and Open Hand Monuments,  it is also famous for its greenry and clean roads. Chandigarh has also been credited of being the third cleanest city in the country under Swachh Bharat survey of 2018.
Chandigarh, a union territory, has vibrant culture that has a mixture of Punjabi as well as modern tradition. Bhangra and Gidda are famous traditional dance that is performed at times of celebration, including festivals, harvests, and weddings. As it is multicultural city, so the costumes here are similar to that of people in other parts of the states. However during important events or festivals, men love to wear sherwani and women wear salwar kameez or saari or lehenga choli.
The traditional food in Chandigarh is typical Punjabi. Like typical Punjabi dishes ghee and butter are used in cooking extensively. Some of the popular dishes of Chandigarh are such as  Kadhi pakora, Punjabi Chhole, dal makhani, butter chicken, stuffed Kulchas, lassi, makki ki roti & saag, and Paneer tikka.  
People of Chandigarh celebrate Lohri ,Baisakhi, Holi, Gurpurb, Rakhri, Diwali, Rose festival, mango festival and many more.
The city offers several interesting tourists places such as Rose Garden, Rock Garden, Sukhna Lake and Pinjore Garden for Nature lovers; Government Museum and Art Gallery, and Capitol Complex for those who love to explore the art and architecture; the International Dolls Museum, Children Traffic Park and Fun city for those who visiting with children. In addition to this, tourists can visit Sukhna Wildlife Sanctuary and Chhatbir zoo which is home to a large variety of birds, mammals and reptiles; other points of interest where tourists can sit and relax.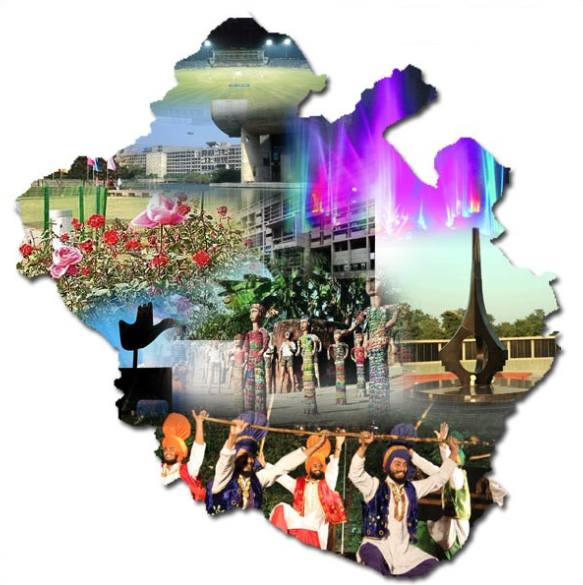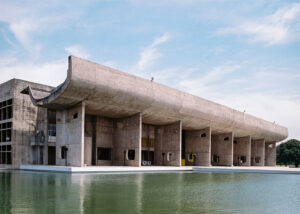 Places To visit
The beautiful city is dotted with greenery, rich culture, beautiful architecture that attracts travellers to visit here. The Major attractions of Chandigarh are:-

1. Rock Garden
The Rock Garden is a massive open-air exhibition land that display colorful mosaic of art pieces and sculptures created with Industrial and Urban waste. It is located at Uttar Marg in Sector 1 near Sukhna Lake in Chandigarh. The garden is also known as Nek Chand's Rock Garden which is named after its creator Nek Chand Saini, a former road inspector, who started this garden secretly in his spare time in 1957 and has become symbol of imagination and novelty in the city. Apart from sculptures this garden has several interlinked man-made waterfall and puddles. The garden is divided into different phases and is designed on the fantasy of a lost kingdom. It is spread over an area of 64 acres.  Various festivals and events also take place here.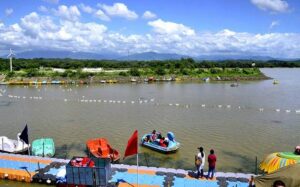 2. Sukhna Lake
Sukhna Lake is an artificial lake that spread over 3 square kilometers situated at the foothills of Shivalik range in Chandigarh. This lake was created by Le Corbusier and Chief Engineer P L Verma in 1958 by damming the Sukhna Choe that flow down from Shivalik hills. To preserve its tranquility Corbusier insisted that it be forbidden to motor boats, and to be prohibited vehicular traffic on top of the dam. The lake is bounded by a Golf Course to the south and Rock Garden to its west.
The Lake has facility of water sport activities like boating, rowing, water ski, yachting, etc that can be enjoyed throughout the year. The lake is also the habitat of several species of fish and migratory birds like the Siberian duck, Storks and Cranes. It has also been declared as protected national wetland by the Government of India. The area around the lake is very calm and peaceful that makes it perfect location for morning jogger and solitude seeker to enjoy fresh air. Photographers and artists often use it to capture the scenic beauty of the sunrise or sunset, the lake view, the heavily flooded monsoon sky, or the early morning mist in winter.   The lake also offers several other options for relaxation and entertainment..
This delightful place is the venue for many festive celebrations too, and the most popular among various festivals are the Mango festival that held in summers or monsoons where varieties of Mangoes are exhibited to public.

3. Rose Garden
Rose Garden is Asia's largest rose garden spread over an area of 30 acres, with 50,000 rose-bushes of 1600 different species. It is located at Jan Marg in Sector 16 in Chandigarh. The Garden is also known as Zakir Hussian Rose Garden which is named after India's former President Zakir Hussian. This botanical garden was created in 1967 under the guidance of Dr M.S. Randhawa who was first Chief Commissioner of Chandigarh. Apart from roses this garden has many trees and medical plants including Camphor, Yellow Gulmohar, Bel, Bahera and Harar. Annual festival called Rose Festival is big cultural event is held in Rose Garden during the month of February or March.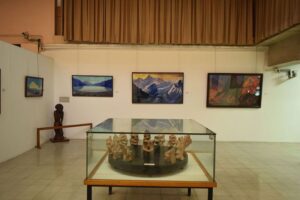 4. Government Museum and Art Gallery

The Government Museum and Art Gallery is one of most important museums of North India that owes its existence to the partition of India in August, 1947. Before the partition, the collection of art objects, sculptures, paintings and decorative arts, were housed in the Central Museum, Lahore, which was the then capital of Punjab. On 10th April 1948, 60% of the objects, sculptures, paintings were retained by Pakistan and remaining 40% were fell in the share of India. The collection of India's share was received in 1949 and was first housed in Amritsar, then got shifted to Shimla, Patiala and finally to Chandigarh. The Museum is located in sector 10 near Rock Garden in the city of Chandigarh.
The Government Museum and Art Gallery was inaugurated by Dr. M.S. Randhawa, then Chief Commissioner of Chandigarh in 1968. Its unique architecture was designed by world renowned architect, Le Corbusier. The Museum has rich collection of Gandharan Sculptures, Pahari and Rajasthani Miniature paintings. Apart from Art Gallery, the Museum has the following sections:-
The National History Museum: Exhibits Dinosaurs in India, Evolution of Man, Cyclorama Evolution of life, Nature in Art, and the ancient manuscripts.
The National Gallery of Portraits: Displays images, painting and portraits related to freedom struggle of India, Freedom fighter and other documents related to Indian independence.
The Chandigarh Architecture Museum: Display the original documents of planning, drawings and sketches; models and other tools related to the evolution of the city.
It also organizes a sound and light show on Friday, Saturday and Sunday at 7:30 PM

5. International Doll Museum
International Doll Museum is one of the best museums in India and is located at Bal Bhawan in Sector 23 in the city of Chandigarh. This museum was established in 1985 by Chandigarh administration in Collaboration with the Rotary Club of Chandigarh and is functioning under the guidance of the Indian Council of Child Welfare. The main purpose to set up this museum was to entertain the kids. This Doll Museum exhibits approximately 250 marvelous collections of dolls and puppets from countries like Russia, Spain, Germany, Denmark, Korea and Netherlands that stand beside the Indian collection. All dolls and puppets has been designed and made by local artists.
The museum is divided into 4 sections – Indian dolls, International dolls, History of dolls and Activity corner. Indian dolls showcase the culture and lifestyle of the regions. Also, an interesting section here belongs to dolls depicted from the famous fairy-tale characters like Aladdin and his Magic Lamp, Ali Baba and 40 thieves, Cinderella, Sleeping Beauty and Snow While and the seven Dwarfs. Apart from the collection of marvelous dolls and puppets, this museum has the huge model of German Railway Stations at the middle of the exhibition hall, and also encompasses an amusement park as well as toy train for children in the museum complex.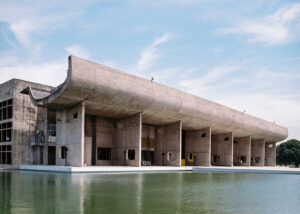 6. Capitol Complex
Capitol Complex is most spectacular work of Le Corbusier (architect of the city of Chandigarh) and is serves as the seat of the government of the state of Punjab & Haryana. It is situated in Sector-1 of Chandigarh city in India. This complex is prime manifestation of Chandigarh's architecture and is spread over an area of around 100 acres. It is declared as a UNESCO World Heritage Site in 2016. The Complex comprises three architectural master pieces:-
The Palace of Assembly or Legislative Assembly,
The High Court,
The Secretariat
The buildings have been separated by large piazzas that provide relief from the towering constructions. And in the center of the Capital Complex is situated the giant metallic sculpture of The Open Hand Monument that is the official emblem of Chandigarh, signifying the city's credo of 'open to give' 'open to receive'. Other monuments included the Tower of Shadow – a demonstration of Le Corbusier's theories of Sun Control and Martyrs Memorial – a tribute to the martyrs of the Punjab partition.

7. Le Corbusier Centre
Le Corbusier Centre is a famous heritage spot which was planned and inaugurated by General (Retd) Sunith Francis Rodrigues in 2008, at Sector – 19B office of the city's architect- Le Corbusier where architect, Le Corbusier with his team conceived the design. This Centre built to tribute him and his contribution towards forming the beautiful city, Chandigarh. The main museum building has exhibited documents, plans, photos and furniture of Le Corbusier. The outer lawn after entering the complex is studded with sculptures and installations. There is not only the planning draft of Chandigarh but also of places of America and Japan.
This Centre aims to preserve and display the archived material, documents, paintings, photographs related to the forming of the city of Chandigarh, and display of the work & legacy of the Le Corbusier. Sometimes small lectures and workshops are also organized by leading artists, art historians, writers of the city etc. in the neighboring building.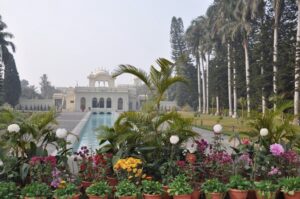 8. Pinjore Garden
Pinjore Garden, also known as Yadavindra Garden, is one of the historical Mughal Garden located in the Pinjore city of Panchkula district, Haryana. This garden was built in the 17th century and designed by architect Nawab Fidai Khan, brother-in-law of the Mughal emperor Aurangzeb. Later the Garden was maintained and renovated by Maharaja Yadavindra Singh of the Patiala Dynasty, and as a symbol of honor the name of garden is given Yadavindra Garden. Legends also have it that the Pandava brothers from the epic Mahabharata rested here for a while during vanvas (exile).
This Mughal style garden expands over an area of 100 acres and a beautiful place to be close to nature. Pinjore Garden is a fine specimen of terrace gardens in India, and built similar to the Shalimar bagh in Srinagar. It has been laid down comprising of seven terraces, and the main gate of the garden opening into the highest first terrace.
The highest first terrace has a palace built in Rajasthani-Mughal style. It is called as Shish Mahal (Palace of Glass), which is adjoined by a romantic Hawa Mahal.
The second terrace has beautiful arches which lead to the Rang Mahal (the Painted Palace).
The third terrace has cypress trees and flowerbeds leading to dense groves of fruit trees.
The next terrace has the Jal Mahal with a square fountain bed and a platform to relax.
Fountains and tree groves are provided in the next terrace, and the lowermost terrace has an open-air theatre, which is designed as a disc-like structure.
The whole complex beautifully illuminated at night. The Pinjore Heritage train has been introduced to take the passengers to all the monuments and the gardens in the complex.
Pinjore Baisakhi Festival in the month of April, Pinjore Mango Festival in the month of June or July and Pinjore Heritage Festival in the month of December, are major annual celebrations at the garden.

9. Mata Mansa Devi Temple
Mata Mansa Devi is one of renowned Hindu temples of North India dedicated to goddess Mansa Devi, a form of Shakti (Power). The temple complex is spread over an area of 100 acres of the Shivalik foothills in village Bilaspur, near Sector 13 (prior known as Mani Majra) of Chandigarh, and Panchkula (district of Haryana), 10 Kilometers from Chandi Temple, another noted Devi Shrine in the region.
According to Mythology, the forehead of Mata Sati has fallen over here and temple constructed. The present main temple of Mata Mansa Devi was constructed by Maharaja Gopal Singh of Mani Majra during the period of 1811-1815. At a distance of 200 meters from the main temple, is a Patiala temple which was got constructed by Karan Singh, then the Maharaja of Patiala in 1840. This temple had the patronage of Mani Majra Princely State. It is also believed that king Gopaldas of Mani Manjra built a cave from his fort to the temple, which he use to go with his queen everyday to see Mata Sati.
Thousands of devotees visit the temple from various parts of the India, especially during Navratri Festivals which is celebrated for nine days. Every year two Navratri melas are organized in the month of Ashvin (September or October month) and other in the month of Chaitra (March or April) by Shrine Board. At the temple, Devotees are also served langar during the day.
Things To Do
How To Reach
Local Transportation
TOUR PACKAGES OF CHANDIGARH
Inclusions & Exclusion
Inclusions:-
Assistance on Arrival.
Accommodation on double sharing basis with breakfast.
The vehicle is available strictly as per the itinerary and not at disposal.
All entry permits, entry tickets included to all sight-seeing points.
Entrance fee for monuments as listed in the itinerary.
All parking fee, Road taxes, Fuel and toll charges etc.
Child below 5 yrs sharing same bed with parents will be complimentarily.
Boat ride at Sukhna Lake in Chandigarh.
Exclusions:-
Additional excursions or sightseeing or extra usage of vehicle, other than mentioned in the itinerary.
Any expenses caused by reasons beyond our control including but not limited to bad weather, natural calamities (landslides, floods), flight delays, excess baggage, rescheduling or cancellations, any accidents, medical evacuations, riots, strikes, war, airline or hotel policies etc.
Any increase in taxes or fuel price, leading to increase in cost on surface transportation & land arrangements, which may come into effect prior to departure.
Meals other than specified in the inclusion.
Tour guide services at any sightseeing place.
Camera Tickets are NOT INCLUDED in the mentioned cost of Sightseeing & Transfers.
Any portage at airports and hotels, tips, Visa, insurance, Alcoholic and non alcoholic beverages, mineral water, telephone charges and all items of personal nature.
Compulsory Gala Dinner on X'mas & New year Eve if applicable.
Any services not specifically mentioned in the inclusions.
Card surcharge if payment through credit card
Peak season supplements and charges.
All applicable government taxes.
Children upto age of 5yrs is complimentary while staying with parents without any child bed or extra bed.
Optional activities mentioned in the itinerary & anything not mentioned in the above package.
Note: Inclusion And Exclusion Of Customized Trips Will Be Provided On Request.
Important Information
FAQ